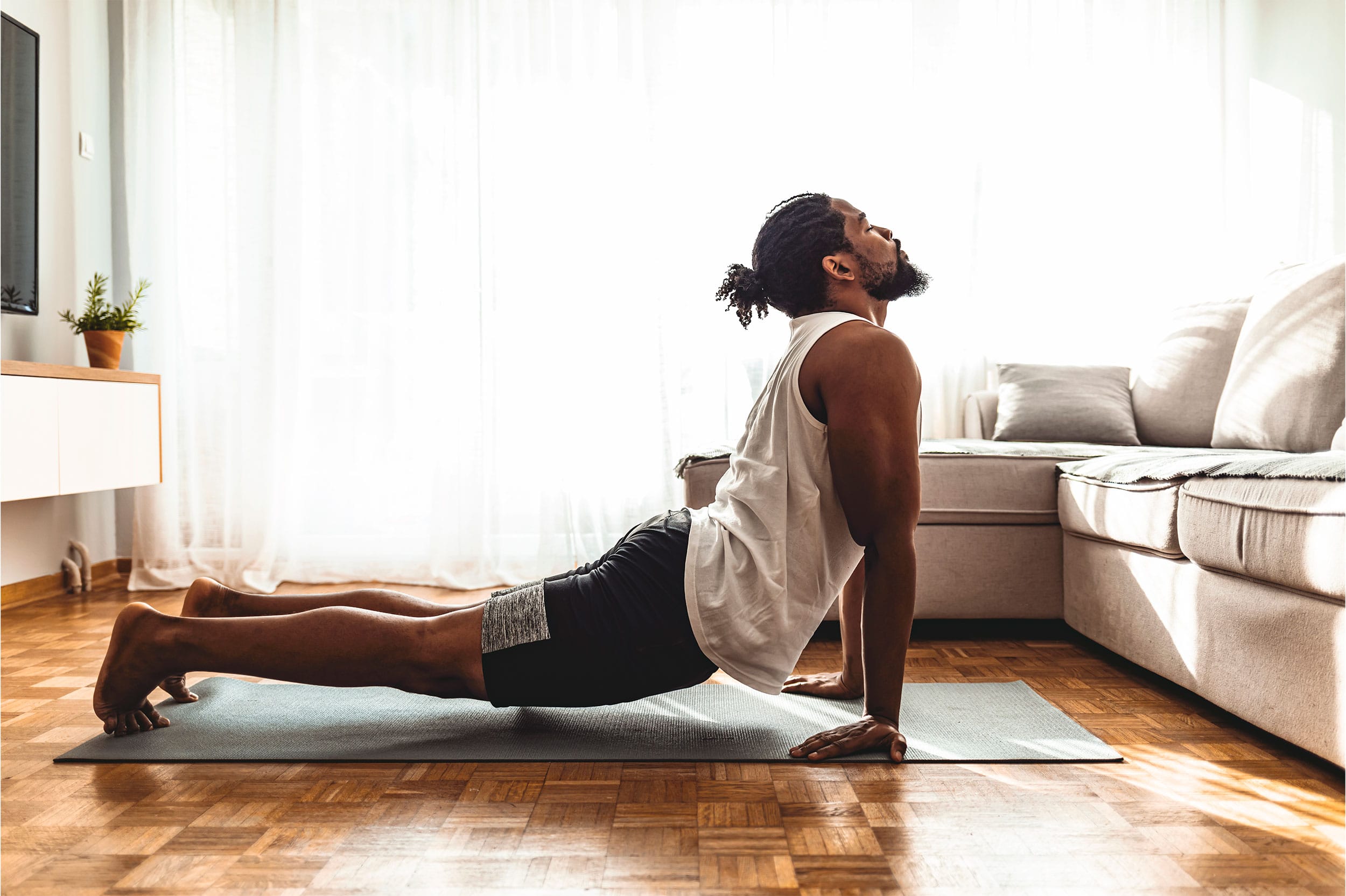 Are you looking for a fitness program that combines the extreme physical hardship of a POW camp with the new-age mellowness of a Ravi Shankar tribute album? Well, yoga just might be the answer.
We're joking, of course. Yoga classes are much more likely to play Ed Sheeran.
If you're like a great many men, you might not have warmed to the idea of using yoga as your primary—or even secondary—fitness routine. After all, in the United States, when we think of yoga, we think of supple women in Lululemon gym clothes in the Downward Facing Dog pose. While this is certainly not a bad thing, it might make us skeptical that the practice produces the kind of results that will lead to our ultimate goal of winning the Antarctic Ice Marathon blindfolded with Kevin James on our backs.
Forget the Stereotypes and Get a Leg Up
Western ideas about masculinity have unfairly painted the yogic practice with an overly feminized brush, which is completely unfair. Furthermore, there is a spiritual, holistic lifestyle element that many of us might not be comfortable with. Forget all of that. Let's put aside our biases, as well as nearly everything the ancient practice of yoga actually stands for,and just concentrate on how it can get you seriously shredded.
Oh, and there's also some health and brain stuff in there, too.
Build core strength
Actually, you build strength all over. Practicing yoga forces you to manipulate your body into diverse—often bizarre—poses (called "asanas"). Just getting into the poses requires a measure of strength and flexibility, but holding those poses requires you to engage all of the muscles in your body in order to maintain the correct form. Oh, yes, there will be suffering.
Increase flexibility
The varied yoga poses increase your overall range of movement from head to toe. Consistent stretching of full muscle groups causes the tendons, muscles, and ligaments to elasticize, allowing you to increase your overall bodily range of motion. We like to call it "pretzelization."
Reduce stress
In addition to the soothing and meditative atmosphere (unless the studio is blasting Katy Perry, in which case you'll be in a white-hot rage), the practice of yoga can alleviate stress in a tangible physiological way. By controlling your breathing, concentrating on achieving one task at a time, and being mindful of your body and environment, you are physically interfering with the production of cortisol, the stress hormone.
Define muscles
Yoga uses your own body weight to help you build strength and tone your muscles; it's an all-over body sculpting program. However, unless you're genetically predetermined to bulk up, you probably won't appear much bigger because no single muscle group is worked more than any other. If you want lats that look like saloon doors, you'll have to do some extracurricular work.
Build endurance
No one really thinks of yoga as a tool for building stamina, but it is. In addition to the excellent core strength and breath control training it provides, it also teaches you to engage your mind in a positive and productive way, which can help guide you over the finish line after a particularly grueling marathon without letting Kevin James plummet to the ground even once.
Alleviate depression
Remember our old nemesis, cortisol? Well, that contributes to feelings of depression, too. By diminishing the levels of cortisol you produce, yoga actually enhances mood and promotes feelings of well-being. (In case the Lululemon-clad, Downward Dog-facing women didn't do the trick.)
Raise body awareness
When you reach a certain age, muscle tension and stiffness from old injuries can make your walk look like you're tiptoeing barefoot through a field of used hypodermic needles. By strengthening muscles you didn't know you have, yoga can help you enhance your ability to move through space. Your posture, coordination, and flexibility improve, making your movements more efficient and graceful.
Yoga Schools
Not sure what school of yoga is the most relevant to your needs? Here's a (very) brief primer on some of the most popular.
Hatha Yoga: This is the type of yoga most commonly practiced in studios in the United States. Also known as the Yoga of Force, this discipline emphasizes purification of the body through muscle strengthening and deep breathing. Not to be confused with "Yoga of the Force," which emphasizes using the Lotus position to defeat Lord Darth Maul.
Iyengar Yoga: This is good for physical alignment, as well as stability and fluidity. This practice employs equipment that helps students achieve postures that aren't possible without assistance. You might find yourself splayed out on a folding chair like a dancer in a Bob Fosse routine or strapped to a wall like in the "Saw" franchise. We promise—it's for your own good.
Power Yoga: Do you like the idea of doing a one-armed handstand but want to bypass all of that striving-to-reach-the-pure-state-of-your-soul? Try Power Yoga! This is a very intense form of yoga that stresses fitness before spiritual catharsis. It builds endurance, flexibility, and strength through continuous motions that the practitioner links together through specific breathing patterns. Power Yoga instructors haven't necessarily gone through the rigorous training demanded of Iyengar and Ashtanga instructors, so it can be a bit more like an exercise class than an emotionally transformative experience. It incorporates standard poses that are used in Iyengar and Ashtanga yoga, but you can rock out to Florence and the Machine.
Ashtanga Yoga: This is also commonly (and wrongly) called Power Yoga. However, it is a very hard-core study of yoga that demands its students master synchronizing their breathing with their movement into the postures. There's a lot of repetition. You're expected to practice on your own. Progress can take months even for Ashtanga devotees. Definitely not for total beginners. In fact—just move along, there's nothing to see here.
Bikram Yoga: Yoga that's essentially taught in a sauna. It's a 90-minute set of 26 postures, in a 105 degree room at approximately 40 percent humidity. The theory behind it is that the intense heat helps practitioners to release toxins while efficiently enhancing full-body strength and flexibility. You're encouraged to work through the nausea, dizziness, thirst, pain, and confusion. It's exactly as fun as it sounds.
Like any new fitness routine, it is essential that you consult your physician before you embrace the yoga lifestyle.
Don't let social pressures or unhelpful preconceptions prevent you from benefiting from yoga. Open up your awareness to a new style of physical and mental conditioning that just might bolster your overall athleticism. Oh, and we almost forgot… sex is better, too.